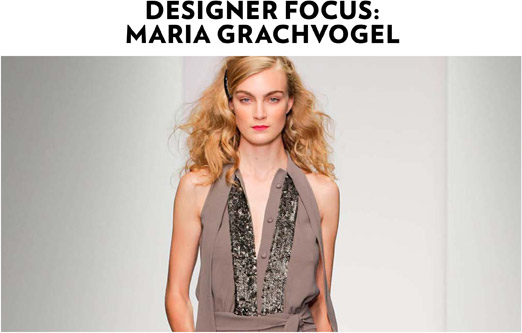 Known for its relaxed, easy glamour, Maria Grachvogel is a brand born out of a passion
for empowering women. The secret lies in the cut – clothing that sculpts the body to
redefine the female silhouette.
Celebrating its 20th anniversary, Maria Grachvogel is the label of choice for many of the world's
most stylish women including Yasmin Le Bon, Emma Thompson, Florence Welch and Jessie J.
Grachvogel commented
"My whole philosophy has been to create truly beautiful pieces each season that women will love and cherish and I am very happy to be celebrating this amazing milestone by showing my Spring/ Summer 2014 collection at Vodafone London Fashion Weekend.
Each collection considers the body in a new way. I like to think of myself as an architect for
the female form, using innovative cutting techniques and signature artwork prints to create
beautiful, sculptural and draped pieces that work effortlessly on a woman's body."
Tag:
http://www.londonfashionweekend.co.uk